I am Autistic and I also have ADHD. I am slightly mad, but that is a good thing, who'd be normal?

maidenofasgard gave the appropriate nickname of King Lego.

On the IQ test below, I found that my IQ was 117.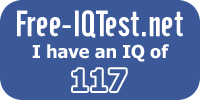 IQ Test

The girl in my profile picture is my little sister.